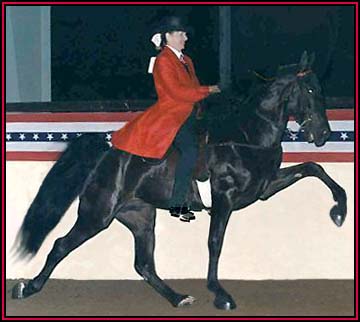 Dodi Speece of McDodi Farms making a show ring debut with her young gelding, Looking For Cash.
Riding a Tennessee Walking Horse is considerably easier than riding other breeds. They do not trot, so you don't have to learn to post. They park out into a stretched stance for mounting, so their backs are lowered and they are easier to mount. They are gentle, sensible animals that don't require a lot of horse knowledge before you attempt to ride. They do an easy, rolling, rocking chair canter that anyone can sit, and they stop if you say, "Whoa". If these horses were any easier to ride, they would have training wheels. So get on and sit down.
Sit with your back straight, and let your legs hang down slightly behind the girth. Tip your toes up and shorten your stirrup leathers until the stirrup is just above your toe. Flex your knee slightly so that your foot slides into the stirrup, but your heel is still below your toe, keeping an easy, comfortable contact with the stirrup. Your leg should still be relaxed and you should be sitting on the horse, not half-standing in a crouched position, waiting to have to post. In case you haven't already, now is the time to relax. Sit quietly on your horse, until you feel all the tension ease out of your body, and you are comfortable.
Balance is maintained more with the upper thigh, than with the knee and the calf. Apply no pressure with your lower leg unless you are cueing for a gait change. It is not necessary to hold onto the horse with your legs, as these gaits are very smooth, and do not dislodge the rider.

Your hands should be held so that there is a fairly straight line from your elbow to the corner of the horse's mouth. Keep your hands soft enough so that when the horse nods his head as he is doing his gait, the natural action of the neck shakes your hand up and down like a handshake. Do NOT attempt to set your horse's head by cresting it at the poll, as you will shorten its stride and reduce the comfort to both horse and rider. Take only enough contact on the reins to feel the bit, and be ready to give more rein to accommodate the depth of your horse's nod. Do NOT attempt to pump or pull its head into a more exaggerated nod that it is producing naturally. Most Tennessee Walking Horses are ridden on a direct rein with a short shank bit, although they can be taught to neck-rein just like any other horse, if you prefer.
When you are riding, do a mental body check from time to time, to see if ANY of your muscles are tensed. They should not be. Relax them. The biggest muscle workouts involved in riding a Tennessee Walking Horse are getting on it, and smiling a lot.

Enjoy your ride.
Above is the real McCoy - an honest to goodness, real time, working American cowboy, putting the finishing touches on a young Tennessee Walking Horse filly that he has been training for 30 days. Notice how relaxed both horse and rider are. Note the light easy seat, instinctively correct position of the leg, and gentle, flexible hands of the rider, as he focuses his attention on circling a perfect loop around them. The filly is moving ahead in a quiet, confident manner, and shows complete faith in the rider, despite the rope singing around her ears. She will carry these lessons on how to be a good, sensible saddle horse for the rest of her life, and will continue to enjoy her working relationship with her rider.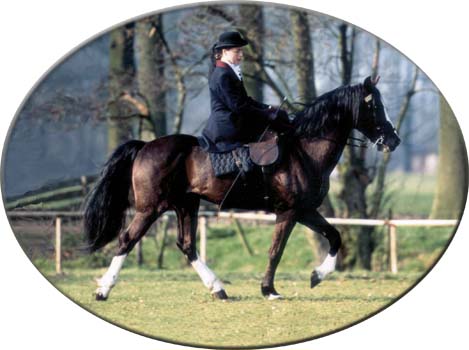 Maryan Zyderveld and the late, great Lad's Black Buster
Who says you can't ride a stallion with a side saddle?

2004 CELEBRATION TWO-YEAR-OLD, LITE SHOD
PLANTATION PLEASURE WALKING HORSE RESERVE WORLD CHAMPION,
Outlined With Silver
| | |
| --- | --- |
| | BEVAL PUISSANCE FIELD BOOTS - The Puissance boot incorporates a new, innovative stretch panel design with a full-length zipper. Made from the finest French calf leather with meticulous attention to detail. Built on wooden boot trees to create a lovely shaped calf while molding perfectly around the foot as well! Owner bought 'em new, for college competition, but left the team after 4 events, so they're barely used. Size 6. Retail at $850. Priced at $680 US O.B.O Contact Logan at PH. 203-559-0179. |
SADDLESEAT EQUITATION by Helen Crabtree
This book gives information about the most popular breeds that compete in saddleseat equitation, and Helen Crabtree is especially helpful with all of her years of experience. Even though the book is more than 20 years old, the lessons inside remain true. The author, Helen Crabtree, is a noted horsewoman. She's won the AHSA Horsewoman of the Year Award and the United Professional Horseman Association's Trainer of the Year award. She has trained over 75 World Champions with her methods. This book shares her expertise. The book deals with the mechanics of riding Saddle Seat, proper tack, and rider attire, but does not deal with judging Saddle Seat. The emphasis is on showing.
In Search of Your Image : A Practical Guide to the Mental and Spiritual Aspects of Horsemanship
True Horsemanship Through Feel by Bill Dorrance
The Art of Horsemanship by Xenophon, the Greek
---